An original K6 kiosk on the left and a Phoney Box on the right.
---
Latest News
November 2015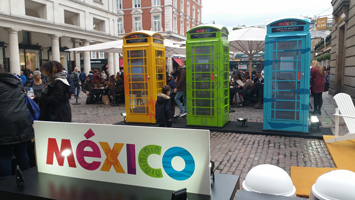 Phoney Boxes in Covent Garden, London for "LIVE IT TO BELIEVE IT" visitmexico.com.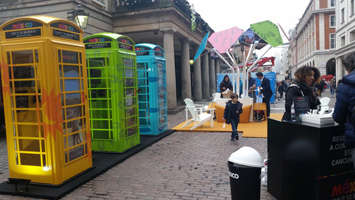 ---
December 2012
One Direction used our red replica K6 telephone boxes with One Direction logos and signage
The Phoney Boxes went with One Direction all around the world for the One Direction phone booth campaign.
---
November 2012
Is that a London red K6 telephone box in the jungle?
Im a Celebrity Get Me Out of Here!! using the Phoney Box with jungle paintwork in the latest series
---
May 2012
The Phoney Box goes to Twickers!!
More about the Phoney boxes at Twickernham...
---
November 2011
Phoney Boxes in Google's Offices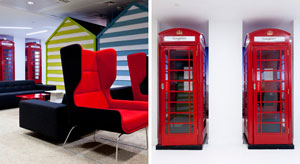 Google are using our Phoney Boxes as call boxes in their offices. Click on the picture for a larger version.
Pictures from Bene Office Furniture
International Business Times article
---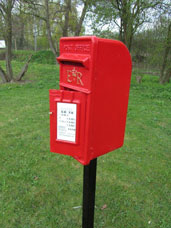 Replica Post Boxes
We also produce replica post boxes. These great looking boxes have a solid, fully working door with a lock.
Ideal for internal mail in your office or on an exhibition stand for business cards and suggestions.
Just like our replica red telephone boxes the post boxes are available to purchase or hire.
---
YOUR IDEAS
We make the K2, K6 and K8 replica telephone boxes but the story doesn't have to end. If you have a product or idea that you have been thinking about, then let us know; our design and manufacturing team could bring the idea to life!
---
More Latest News...
---
The Red K6 Telephone Box has long been a true design icon - known all around the world to be as British as the red London bus.
Now you can own a high quality replica that is difficult to distinguish from the original and has many practical advantages.
It weighs only 90kg* against 750kg* for the original
It is supplied in six sections in a convenient package that is easy to handle
Assembly takes just a few minutes
Fully working door with brass hinges and a door closer
Glazed  with 72  individual panes of perspex
4 telephone signs
Any  standard colour available
A full size replica red K6 telephone box, 8ft 4inch tall and 3ft square base just like the original K6 Telephone box
Can be used for :
Private calls in offices
Private mobile phone calls
Pubs /nightclubs
Hotel receptions
Advertise your business logos and all colours available
TV / Film
Shop displays
Video booths
Fully finished Phoney Boxes are also available to hire
We also have a range of Replica Red Post Boxes.
See the Products Page for details...
Please complete an enquiry form or call us for more details.
+44 (0)1352 751751 or +44 (0) 7710 678677
---
Christmas Shopping Event - London
Phoney Boxes were used as red K6 telephone boxes to advertise during the Oxford and Regent street London Christmas shopping event.

---
THE EIGHTIES ARE BACK !
Due to requests we are now able to offer a replica K8 1980s model.
Just like our K6, the K8 is available in a kit ready to assemble, or we can deliver and assemble the boxes for you.
---
It doesn't have to be red!
The Phoney Box is ideal for advertising shoots. It's lightweight and easy to assemble on location.
See how Yellow Tail Wines used the Phoney Box in their advertising video (YouTube video)
---
For more information and examples of how the Phoney Boxes have been used, see the Latest News page...
---
The Phoney Box appeared on Dragons' Den on BBC2 at 8.00pm on 21st February 2007.
We didn't win but the five Dragons had a bit of fun by all managing to get inside the box. It was an amazing experience and certainly gave us the kind of exposure we need to make people aware of the potential of the product.
More about our experience on the Dragons' Den...
---